About My Photography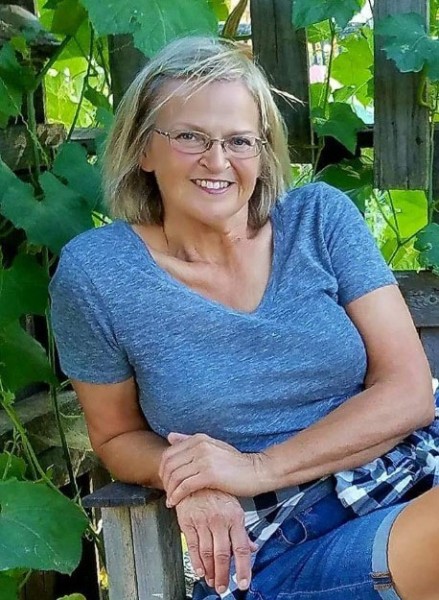 By Wendy Dexter
How "Smartphotos" Began
I was raised on a farm west of Mattoon, Illinois—the only girl among six children. My appreciation of the land and our surroundings came from my dad. Sunday afternoons were often spent in the car, taking long, leisurely drives to area lakes or parks.
As an adult who resided in the country, I was often in a rush and running late to get to town. But when I reached my mid-sixties and retired, it was as though God tapped me on the shoulder and whispered, "Slow down. You are hurtling toward death… and you are already closer to the end than you realize."
So I heeded his advice. When I did slow down, I saw things I hadn't really noticed before. Sure, I had seen them, but I hadn't really seen them. I often stopped and took photos with my phone. In the beginning, phone cameras were very handy, but not all that great. With the advent of smartphones, the cameras in them became more sophisticated and my photos were turning out much better.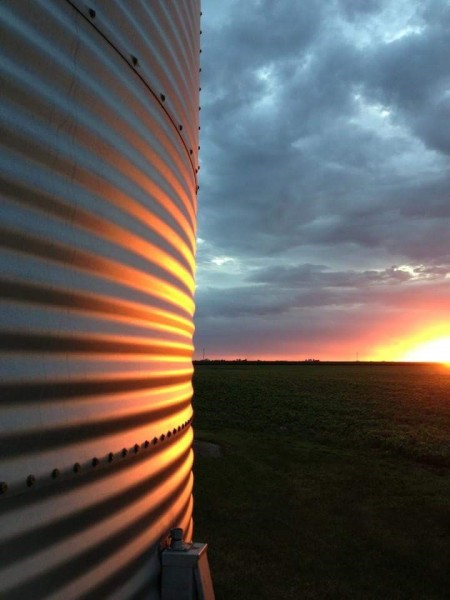 Going Public
Social media, such as Facebook, became the perfect place to share my pictures. When I began to receive positive feedback, I was encouraged to post more photos.
In an effort to counteract so much negativity on Facebook, I began to try to add something positive using my photos. People told me that often my pictures made them homesick, or brought up pleasant memories, or just resonated with them. Often they provoke lively discussions and they have been a tremendous learning experience for me. It is deeply touching when someone shares a photo or offers a personal thank you. To be able to move another human in an emotional way, is something I never dreamed I could do. When someone says they are inspired by me to take more pictures, that truly is the ultimate compliment.
I have incorporated some recurring features that people seem to enjoy. One is "I invite your captions" and the other one is a mystery photo, where people guess what the item pictured actually is. I also have what I call the "Shoe View." Seeing people interacting in a positive, often humorous way brings great satisfaction.
Awards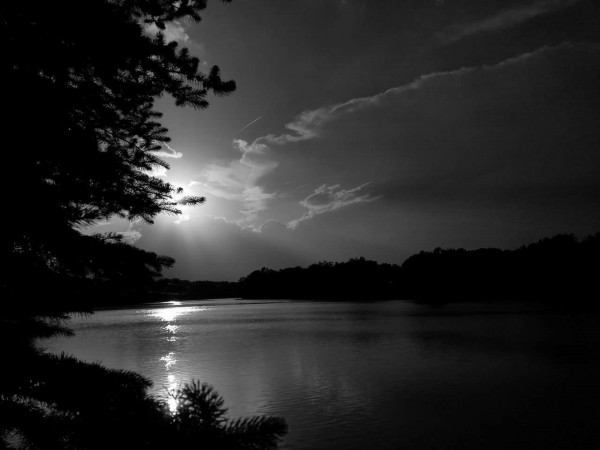 Friends encouraged me to enter the Mattoon Arts Council Photography show in 2016. There are so many talented photographers in my area, but I figured why not give it a shot (pun intended). I was dumbstruck to win First Place in the category "Color Photograph, Amateur" for my picture "Grain Bin Bend." That photo also was declared Best of Show.
In 2017, I won First Place in the "Black and White, Amateur" category for a picture called "Twin Lakes, Paris," as well as First Place in the "Color Photograph, Amateur" category for my picture of a dew-covered Japanese beetle called "Bedazzled Beetle."
In 2018, I was blessed again to win First Place in the category "Color Photograph, Amateur" for a photo called "Shoe View." This photo also was named Best of Show.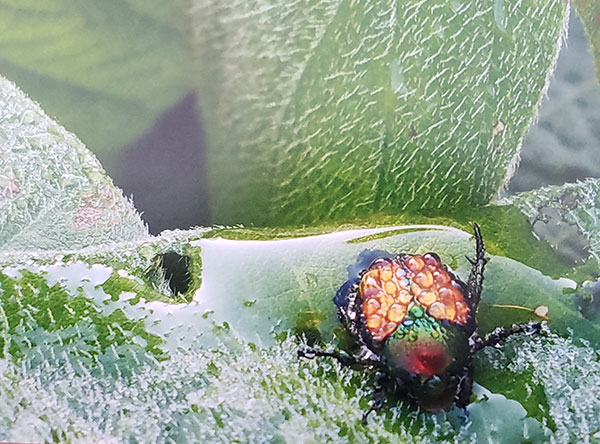 Personal Reflections
Anyone who knows me knows I believe that timing is everything. I am a classic late bloomer, having only discovered my passion in my later years. I believe highly in divine guidance because I sometimes have no idea why I take a certain path or go down a particular road. Also I had an art teacher who demeaned me in 7th grade and ruined art for me, until I met a man named Stacy Doty, who encouraged my efforts and made me believe in myself.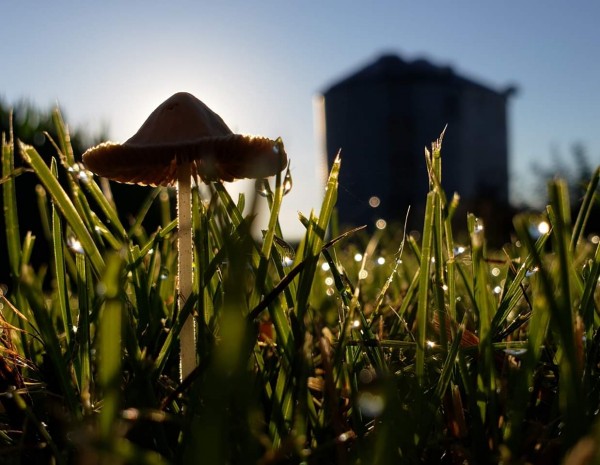 I have always been a deeply passionate person but I never had a creative outlet for that passion. Whether carefully and slowly scouring the landscape in my car, or kneeling on a piece of cardboard, face down with my face buried in the wet grass of my yard, time passes by so quickly. I get lost in what I'm doing.
When people compliment my work, I tell them that I am only documenting God's handiwork. After all, he was the one to advise me to slow down and smell—no, make that photograph—the roses.
I hope you enjoy viewing my gallery, and thank you for visiting my website!